Nestled between the Puget Sound, the Cascade Range and the Olympic Mountains, Seattle offers the best of both worlds – a striking city with iconic landmarks, world-famous attractions and an energetic vibe combined with spectacular beauty, jaw-dropping mountain views and natural attractions.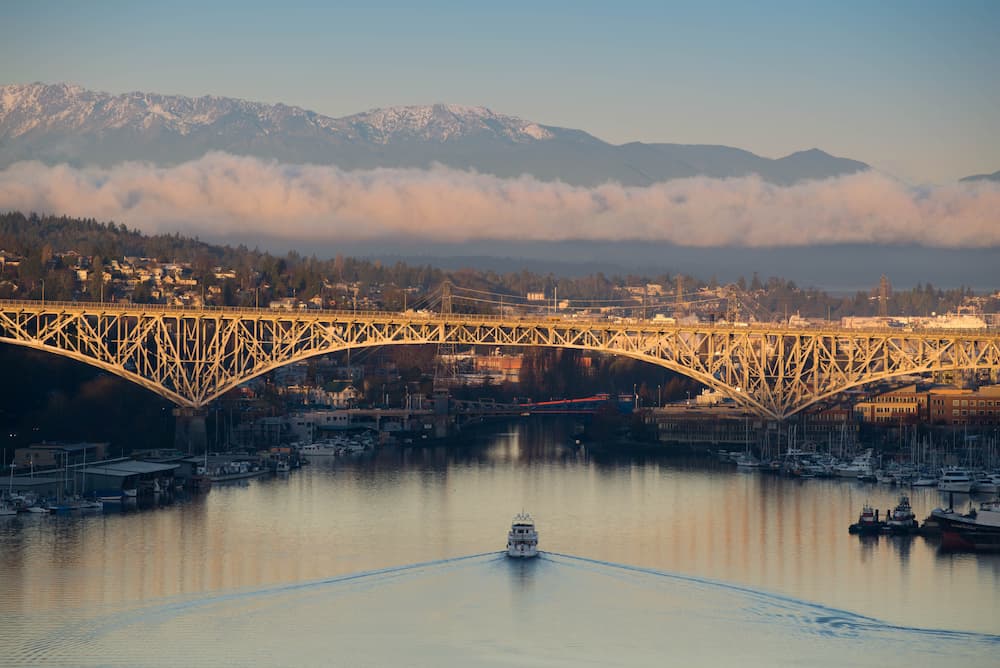 The ultimate Seattle travel guide is sure to include climbing the steps of the Space Needle, riding the Seattle Monorail, immersing yourself in the pulse of Pike Place Market, getting arty at the Museum of Pop Culture, embarking on a Seattle Walking Tour and visiting the Starbucks Reserve Roastery & Tasting Room, of course! But you can't visit Seattle without exploring the hip neighborhoods.
West Seattle is one of Seattle's most appealing and scenic neighborhoods with an expansive waterfront, laid back beach town vibe, stunning views of the mountains and city, and easy access to downtown Seattle's top attractions. West Seattle is just a quick and scenic 15-minute trip on the West Seattle water taxi to Pier 50 in downtown Seattle but boasts world-class attractions of its own to explore.
Alki Beach Park
Alki Beach Park is Seattle's closest beach stretching for two miles from Duwamish Head to the Alki Point Lighthouse. While it's not the palm-lined white sands of California, it's a hub of activity with beaches for sunbathing, beach volleyball, calm waters for SUPs and canoeing, kayak eco-tours and tidal pools for fishing and crabbing. All with tranquil views of the Puget Sound and even the Olympic Mountains on a sunny day. Remember to always watch the tides!
The paved Alki Beach Trail follows the shoreline for rollerblading, bike rides, skateboarding and people watching! The path is lined with waterfront eateries and firepits to reserve for evening beach bonfires. The trail ends near the Alki Point Lighthouse, a fully functioning Coast Guard Lighthouse over a century old.
Alki Beach is where the first white settlers landed in Seattle and history buffs can take weekend tours of the lighthouse (Memorial Day to Labor Day) and view Seattle's Statue of Liberty, a large monolith and plaques along the path commemorating the first settlers to Seattle.
Hamilton Viewpoint Park
Hamilton Viewpoint Park is a tiny park up a steep road from Alki Beach Park. This West Seattle pocket park sits atop Admiral Hill with panoramic views of the Seattle city skyline, Elliott Bay, the Port of Seattle and the Cascade Mountains. This is a spectacular spot to watch the sunset in Seattle, so pack a picnic, bring your camera and keep your coins for the telescope to soak up Seattle's urban and nature views.
Lincoln Park
Lincoln Park is another West Seattle gem set on a bluff overlooking Puget Sound. This 135 acre heavily wooded park has scenic rocky beaches, a 1 mile beach trail, 5 miles of walking trails, 4 miles of biking trails, a kayak and canoe launch for water activities, picnic pavilions, playgrounds and an outdoor heated saltwater pool and bathhouse.
Schmitz Preserve Park
There's no need to leave the city to experience the tranquility of an old-growth forest with winding paths, streams, towering trees, birdlife and wildlife. Schmitz Preserve Park is within walking distance from Alki Beach Park with 1.7 miles of quiet hiking trails through a soul-stirring old growth forest, one of the last few remaining in Seattle. The perfect place to reconnect with nature!
Arts & Culture
West Seattle is home to a vibrant community of artists and creatives. Enjoy award-winning theater and comedy at the ArtsWest Playhouse in the Junction or classic revival movies in the vintage Admiral Theater, a beautifully restored historic Seattle landmark with a fascinating history. To discover the best of West Seattle's diverse arts community, sip and stroll the galleries on the West Seattle Art Walk, held on the second Thursday of each month year-round.
The Georgetown Trailer Park Mall is a must for the artsy! This open-air artisan mall is a quintessential Seattle landmark with a unique collection of vintage trailers, pop-up shops and even a wedding chapel!
Shopping & Dining
The main shopping and dining in West Seattle is waterfront on Alki Avenue, along California and Fauntleroy Avenues and at the West Seattle Junction, the heart of "downtown" and a top Seattle attraction. Aside from the shopping and dining (and super cool retro bowling) in the Junction, you'll find everything from classic vinyl shops and cafés and Seattle's best bakery to vintage book shops and boutiques on the streets of West Seattle.
The West Seattle Farmer's Market is the perfect place to shop for fresh produce for home-cooked meals or discover the best of Seattle's thriving foodie scene at the coffee roasteries, bakeries, tap houses and waterfront eateries on Alki Beach.
Where to Stay in West Seattle
Book with confidence, stay with confidence and experience the best of Seattle with Recreation Vacation Rentals. Our Seattle vacation homes are in close proximity to Seattle's iconic landmarks and attractions and offer more than just a place to sleep with fully-equipped kitchens for an easy vacation, thoughtful amenities for comfort and exceptional service (and insider tips!) from a local team.